Assistance with Assistants
Throughout the Silicon Age, there have been countless religious wars of varying degrees of intensity and nerdiness. Mac vs PC, Nintendo vs Sega, Playstation vs Xbox, NT vs Netware, iPhone vs Android, and
tabs vs spaces
. Home automation is no different and although we have (and will do so again in the future) discussed
Home Assistant vs SmartThings
and
Z-Wave vs wifi
, this week we will talk about the digital assistants that sit in our houses waiting at our beck and call: Alexa and Google Assistant (and Siri).
Voice-based assistants have been around for
years
but have recently
grown in popularity
as improvements in machine learning techniques and deep neural networks have dramatically increased the ability of computers to both understand and respond to our questions and commands. The ability to listen for commands and translate them into web searches, music or video playlists, and smart home instructions has captured the hearts of millions of households worldwide.
A few things to note before we dive in. First, some people are reluctant to have an always-listening microphone in their home, especially one that is controlled by a large corporation. And they aren't totally wrong either. There have been cases where an unlucky series of voice commands sent transcripts of a private conversation to a
random contact
. But typical usage of any of these assistants should not radically affect your
online privacy
. In fact, Google has been publicly championing privacy and has touted its ability to start running Assistant without requiring internet access. Second, many users tend to call these devices home automation "hubs". They have some hub-like functionality in that they can connect to various services and issue commands to control devices connected to those services. However, these integrations are often over the internet and usually only control wifi devices through those (or sometime local wifi) connections (with the Echo Plus and Show with their Zigbee radio being the exception). The automation these devices are capable of is not on par with the true automation hubs like Home Assistant or SmartThings. Instead, it's best to think of your digital assistant as alternate way to provide input to your real hub. You can either click on a "Bedtime" routine in your SmartThings mobile app or you can ask Google to activate "Bedtime".
So which assistant should you choose for you home? If you've been reading this blog with any regularity, you already know the answer. It depends. As with Coke vs Pepsi and toilet paper roll
over vs under
you'll find fervent advocates on both sides. However, one thing most people will agree on is that Siri is not as good as Google Assistant or Alexa so we're going to ignore her for now. The one thing to keep in mind when choosing a digital assistant is that, whatever your choice is, you won't be wrong. GA and Alexa have roughly the same capabilities and can both provide perfectly acceptable home automation control. They have similar form factors and play music well. Sure, conventional wisdom says that Alexa is compatible with more home automation device brands and that Google Assistant understands you better. But these differences are minor and can change with each firmware update. What is more important is that each assistant is part of a larger ecosystem of devices that interoperate with its assistant at a deeper level than the other's. So if you have a Ring doorbell (made by Amazon) and want its video feed to show up in your kitchen when someone rings the bell, you'll be best served by an Echo Show. If you have a Google Nest Hello, a Google Assistant-powered SmartDisplay should grace your counter.
Of course, running both sets of assistants is always an option. You can use either set of devices as a voice control gateway to your hub. Make use of the strengths of each platform in the areas where it most makes sense. For example, one feature that Echo has that I haven't been able to successfully cobble together on Google devices is "drop-in". The interesting application of this feature is that you can easily drop in on any specific Echo device and have a regular conversation with the person on the other end. So saying "Alexa, drop in on the basement" will allow me to tell the kids to shut off the Xbox and come upstairs, just like an intercom system. So even if you have a Google Hub for viewing your Nest Cams, you might still make use of Echo Dots throughout the house as an intercom system. Be aware that there isn't a lot of overlap between both sets of speakers when it comes to music services. If you want to have 1 music subscription and play it on both platforms, go with
Spotify
.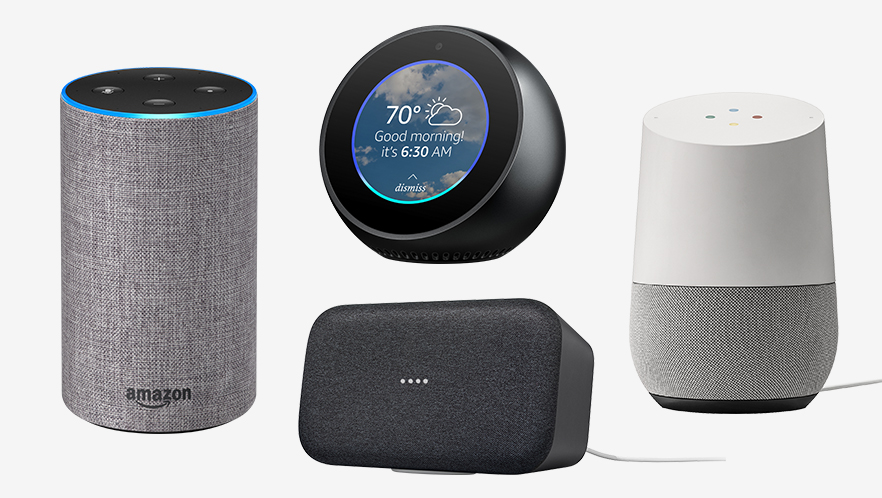 In terms of device types, the speakers and displays made by Google and Amazon are pretty similar. At the low end, you have the slightly-larger-than-a-hockey-puck
Google Home Mini
and the
Echo Dot
. Both have a list price of $50 but are regularly on sale for $30 or given away when purchased with other devices so don't pay full price for these speakers. At the mid-level, there's the
Google Home
vs the
Echo
(and the
Echo Plus
with a Zigbee radio). And then at the top, the
Google Home Max
doesn't have a direct Echo competitor but Amazon does have the
Echo Input
which enables you to bring Alex to any speaker you'd like. In the smart display space, there is the
Google Hub
(recently renamed Google Nest Hub) and the larger, brand new
Google Nest Hub Max
vs the
Echo Show
, the
just-announced
Echo Show 5, and various Kindle Fire tablets with
Show Mode
. For a detailed look at the exact features available in each model, checkout this
roundup
. Remember, both Google and Amazon view these devices as a foot in the door to your home and have therefore have pretty regular sales on them so try not to pay full price!
Both Google and Amazon have been busy embedding their assistants in third-party devices as well. Alexa can be found in the Ecobee 4 thermostat and GA powers the Insignia voice alarm clock and Lenovo Smart Displays. Sonos now has both Alexa and Google Assistant in its speakers. Regardless of the ecosystem you've invested in, rest assured that you'll have plenty of devices to choose from.
My house has a healthy mix of devices but we primarily use Google Assistant because I value the ease with which it understands me. The factors that tilt the balance might be different for you. Which assistant device do you rely on most in your home?